SensoGOLD™

Bacterial Identification Kits
Rapid and simple-to-use kits for detection of pathogenic bacteria based on their nucleic acid signatures. The kits provide easy to interpret colorimetric results that can be read out with a naked eye.
​
Organism-specific kits are available for the detection of major bacterial pathogens. In addition, the Universal Bacterial Pattern Detection Kit is designed to detect all major pathogenic bacteria species indiscriminately, allowing the assay to be used as a generic screening test for the presence of bacterial contamination.
​
Each SensoGOLD™ bacterial identification kit consists of 2 part: (i) silica columns and reagents for efficient and rapid extraction of nucleic acids, and (ii) SensoGOLD™ platform reagents for pathogen identification.
We also offer silica column nucleic acid extraction as standalone kits without the SensoGOLD™ nanoparticle components. Nucleic acid products generated by these kits can be used for subsequent analysis by such technologies as real-time PCR or sequencing. These products can be found here.
​
Detailed technical information about the technology behind our SensoGOLD™ tests can be found here. These assays are designed for research use only.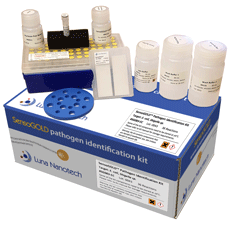 Complete Pathogen Identification Kits
​
These kits include silica columns and reagents for nucleic acid extraction and nanoparticle reagents for pathogen identification.